Why Choose Us? Find reasons to choose us as your freight partner
Superior Customer Service
Each customer has a unique set of requirements, so we customize our services to meet these needs. Each customer has a dedicated Customer Services Representative (CSR). Having a dedicated CSR results in better customer service and support. In addition to ensuring customer satisfaction, standard operating procedures (SOP) are established.
In-Depth Industry Knowledge
We understand how important it is to stay up-to-date on industry news, challenges, and game-changing events so we can assess the impact on our customers. Our assessment will help us determine if any further steps are required to ensure our customers are taken care of appropriately in the future.
Flexible Transportation Solution
Today's business environment demands flexible, versatile, and efficient transportation solutions that satisfy the executive suite as well as production cost and efficiency benefits. As a logistics and transportation company, we are able to offer both asset-based and non-asset-based services.
Optimized Network to Save You Money
Our goal is to lower your incremental transportation costs through our network optimization and provide better service. Through matching inbound and outbound customer freight flows, we help carriers reduce empty miles by delivering the power of overlapping networks.
The TQS Logistics team has been supporting us for the past year, and we are very happy with the service and support provided. We look forward to working with TQS for many years to come.
Mr.Kulbhushan,WPG
TQS Logistics offers a full range of logistics services. TQS Logistics assists us in connecting across India and expanding our business.
Mr.Neeraj Rana, Fourus
A year ago, we began working with TQS Logistics and it has been a wonderful partnership. Our presence has grown exponentialy and we are rapidly expanding, all with the full time support of TQS Logistics.
Mr.Ranjan,RCA Techmart
Latest News & Blogs Stay Update With Us
Overview of Logistics Industry in India.
By: Shashank Shekhar
The logistics industry is considered a crucial sector to boost international trade as a result of digitalization and globalization. The logistics and freight industry is continuously evolving and is regarded as the backbone of the economy in India as it ensures quick, efficient and economical transport of goods across India and many commercial sectors depend on it. The innovative and advanced technologies have resulted in increased efficiency and extra combined operating models in the logistics companies in India.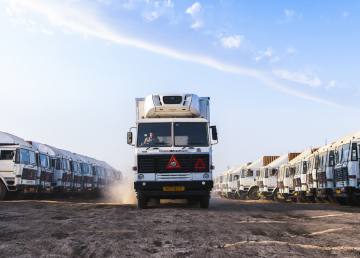 6 Different Ways to Improve Your Warehousing.
By: Shashank Shekhar
With advances in technology and changes being implemented by the government, supply chains are constantly evolving. In these times, how does one improve warehousing productivity?
FAQ Frequently Asked Questions