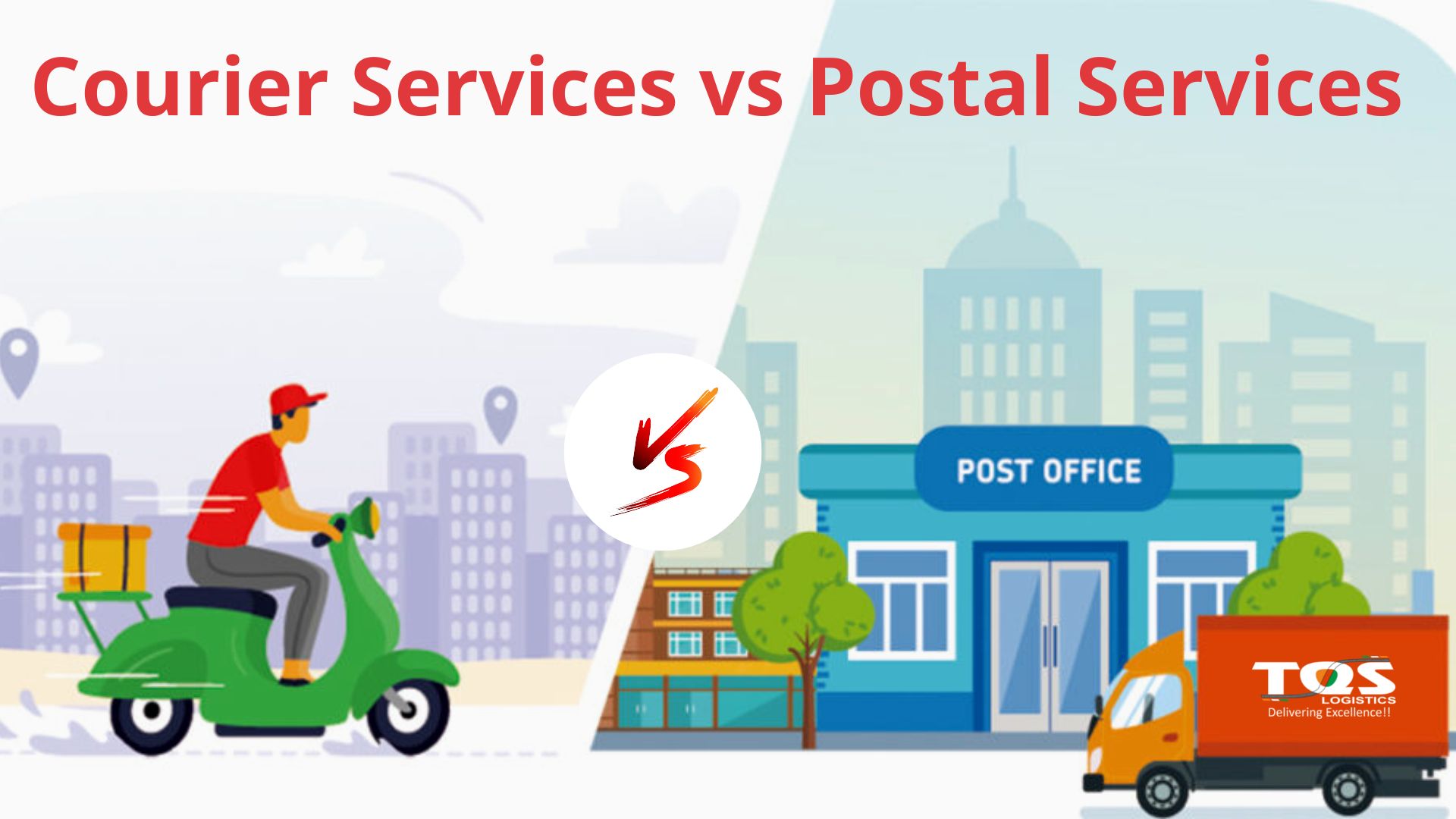 What Are the Benefits of Courier Services vs. Postal Services?
By: TQS Logistics
Three out of four customers prefer that shops send their items through a secure courier service in Delhi, according to a poll. And 53% responded that if a courier was not an option, they would remove their items from their shopping carts. Only 19% of those surveyed, in contrast, said that they would be willing to wait more than two days for their goods to arrive, and more than 50% indicated that they would be unsatisfied with a wait time of three days or longer.
Therefore, selecting a delivery provider that offers the most advantages is crucial for an eCommerce firm. In order to decide which choice is best for your business, this blog will examine the main distinctions between courier companies and postal services. Let's begin, then.
When choosing between the courier and postal delivery, there are a number of things to take into account. This comparison was made because eCommerce businesses need to prioritize speed, affordability, reach, and trackability. To help you decide which choice is best for your company, we have outlined these distinctions below in an easy-to-understand format. View this.
1. Speed
It is almost always faster for couriers deliver packages than for mail carriers. Even though speed is not always crucial for certain deliveries, especially high-value items, the difference between courier and post is significant.
For instance, several parcel delivery services may send out parcels and deliver them one to three working days later. Postal delivery of packages can take up to five weeks or longer. Since minimizing the client journey is the main goal, courier shipping is thought to be preferable.
2. Availability
Because of their increased availability and the flexibility to plan a pick-up time that works for your business, fast courier services in Delhi NCR are also more accessible than postal services. Almost everyone can receive mail at their house or place of business, however couriers are far more lenient about the time you can pick up your package.
For instance, businesses can decide between a "normal pick-up," which often takes place at their location during regular business hours, and an "evening pick-up," which is planned for the convenience of their clients.
Although postal services are still dependable, it can be challenging to plan a time when you will be accessible to receive a box.
3. Traceability
The growing number of consumers who place a premium on speed and traceability is another factor contributing to the popularity of courier services. In general, courier services are easier to track down than postal services.
Customers who use courier services can leverage on-Pincode tracking can track their delivery in real-time and, after it has been dispatched for delivery, find it on a map. Customers may rest easy knowing they will receive the goods they paid for fast and effectively thanks to trackability.
For instance, UPS offers a Track and Trace system that constantly updates consumers on the location of their packages. The consumer can use this service to track their package as soon as they obtain the tracking number via delivery confirmation.
After your package has been shipped out, you can ask for a tracking code from the postal service, but you can only follow the delivery through the postal service's website, not a third party. Due of this, it may be challenging for firms to track the progress of their delivery accurately.
4. Cost
Another aspect that has contributed to courier services' rising popularity over postal services is their cost-effectiveness. Because clients like them and use them, courier services are typically less expensive for businesses compared to alternative shipping options.
In order to reduce costs and save money, firms use services like FedEx Express and UPS Next Day Air, for instance. Customers are more likely to place larger orders from firms that use these options because they see them as dependable and quick.
Postal services are still more expensive than courier services as a whole, despite having a wide range of pricing options.
5. Reach
Courier service has a greater reach than postal service. While courier services offer greater alternatives and flexibility for international and same-day delivery, postal services can deliver to any location both domestically and abroad.
One of the main problems with using the postal service to deliver packages internationally is that it takes longer than expected because you have to make reservations in advance and pay additional fees. Additionally, you cannot choose a pick-up time for India delivery.
For instance, there are numerous limits and limitations that affect the speed of delivery when sending items internationally. Due to lengthy customs clearance processes and international shipping delays, delivery times for packages are frequently significantly longer than anticipated.
Contrarily, courier services typically provide more flexible options, such as quick, dependable fast, trustworthy courier logistics services in Delhi and drop-off deliveries, letting customers choose how they want their packages delivered rather than requiring them to adhere to rigid pricing structures that are not always practical.
Conclusion
Courier services continue to grow in popularity as technology advances and companies strive to gain an edge over their rivals. While postal services give a number of shipping choices that are still dependable enough for most businesses, courier services have undeniable advantages over their competitors.
As a result, couriers offer more reach, speed, availability, traceability, and affordability than postal services. When you consider these advantages and their affordable pricing, it is clear why courier services are quickly replacing other options for eCommerce companies.