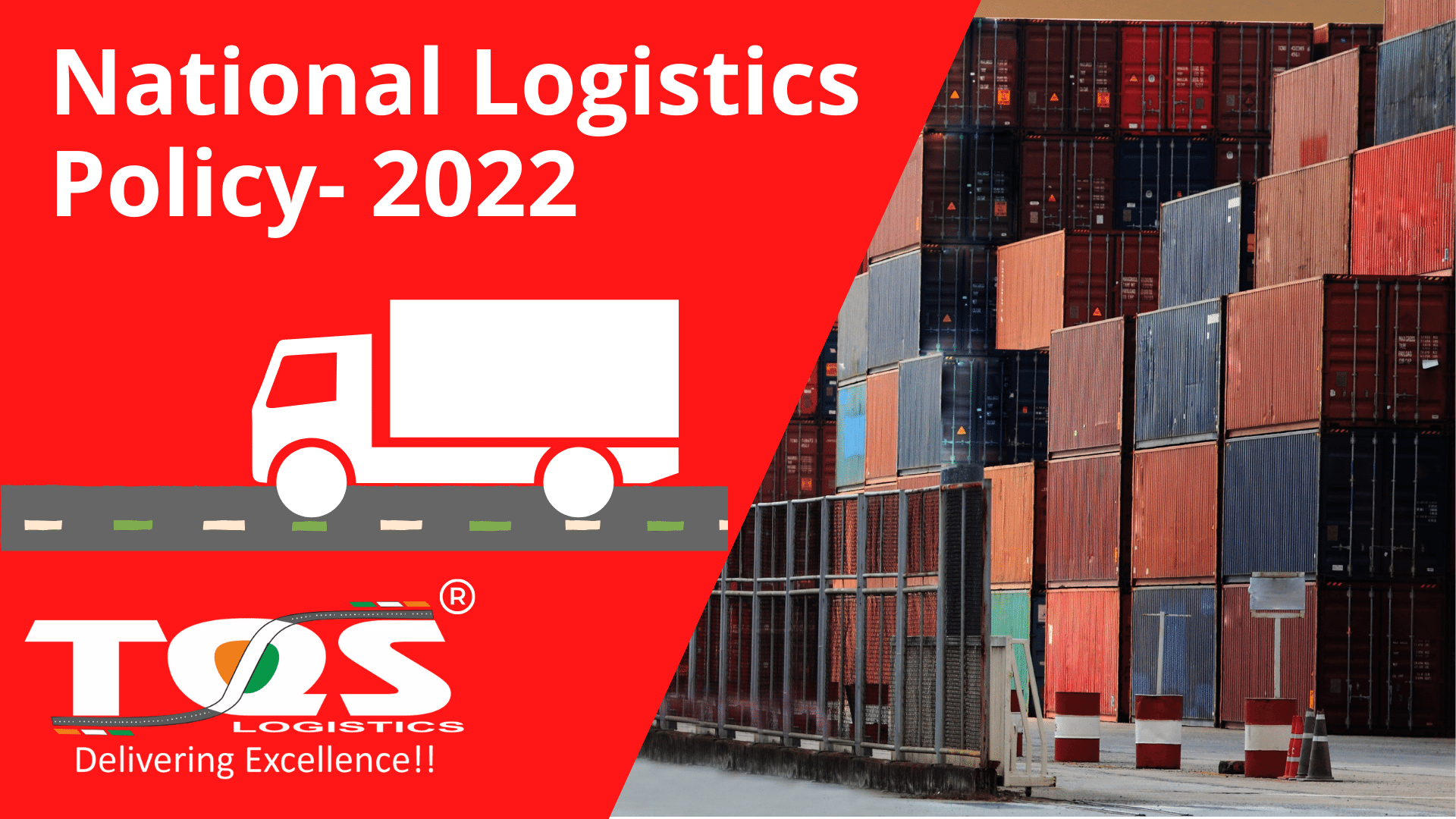 What is New National Logistics Policy 2022?
By: TQS Logistics
On 24 September 2022, Hon'ble Prime Minister Shri Narendra Modi introduced the country's national logistics policy and set a target to reduce logistics spending from as high as 13–14% of GDP to around 10% over the following several years.
The goal of the program is to ensure seamless transportation of goods and services throughout the nation and reduce high logistical costs, which are frequently seen as India's biggest structural trade barriers. The strategy, which is being hailed as the first comprehensive framework for the nation's $150 billion logistics industry, is anticipated to help promote manufacturing, build infrastructure, and create jobs.
The Prime Minister described the strategy as one of the important steps in India's journey towards becoming a manufacturing powerhouse and a developed country, stating that it is low-hanging fruit if we want to be globally competitive. However, Modi was adamant when he stated that to make sure the program achieves its goals, there must be a concerted follow-up effort by the public and private sectors.
Simple yet transformative targets are included in the policy to assist measure its effectiveness.
1. By 2030, lower the cost of logistics from its current level of 14–18 percent of GDP to an acceptable 8 percent. The logistics cost-to-GDP ratio is very low in countries like the US, South Korea, Singapore, and several European countries.
If the current cost represents 16 percent of GDP, then by 2030, assuming no additional advancements in the global standard, logistics costs would need to be lowered in half to be close to benchmark levels.
2. Increase the nation's standing on the Logistics Performance Index (LPI) so that it is among the top 25 nations by 2030.
This lacks the necessary ambition.
India's economy is the fifth-largest in the world. It must strive to rank among the top 10 in the LPI by 2030 if it is to make the rapid progress necessary to become one of the top three economies and join the group of developed countries. It must keep up with South Korea's speed.
3. To enable a successful logistics ecosystem, develop data-driven decision support systems (DSS). This is vital. Yesterday, the DSS was required, and now time is rapidly running out.
4. The policy aims to ensure that logistical problems are kept to a minimum, exports increase greatly, and small businesses and the people who work in them significantly profit.
Last but not least, improving the logistics industry will facilitate trade, create a significant amount of employment, and guarantee an improvement in pay and working conditions.
Important building blocks
1. The Unified Logistics Interface Platform (ULIP), which intends to consolidate all logistics and transport sector digital services into a single site, is the most important component. It frees producers and exporters from the current tyranny of protracted and onerous procedures.
2. Logistics Services with Ease (E-Logs), a new online platform. This will enable the sector to raise operational issues with government organizations directly for a quick resolution.
3. The integrated digital logistics systems, standardization of physical assets, benchmarking service standards, human resource development, capacity building, and creation of logistics parks are all included in the comprehensive logistics action plan.
4. INTEGRATION OF DIGITAL SYSTEM (IDS): To facilitate cargo transportation, we will combine data from many ministerial departments.
5. SYSTEM IMPROVEMENT GROUP (SIG): Ministry officers will frequently check on all logistics projects to identify bottlenecks and remove them in a timely way.
6. FOCUS ON SKILLING: Skilling will receive attention. Creating jobs will also be a major area of attention.
7. E-HANDBOOK: We intend to standardize physical asset warehouses. If you want to know more Please visit our Site: https://www.tqslogistic.com